YOUR GIFT SITE
SETTING THE FOUNDATIONS FOR FESTIVE SUCCESS
What's the key to successful festive gift voucher sales? There are many things at play, but one thing's for sure – it starts with having the right foundations in place. As with many things in life, when the foundations are secure, it makes everything else much easier and efficient and sets a strong platform to develop, grow and prosper.
Here are four key things on your gift site to give attention to now, to enhance your buyers' festive experience, stimulate their senses and make it more intuitive to browse and buy your gift vouchers.
COPY

Create desire with the words that you choose to use. Nobody knows your venue as well as you, and it's an opportunity to highlight what makes your hotel / resort and the experiences you offer unique. For example, what makes your Spa or Afternoon Tea special? Use words that encourages your customers to open their hearts to your gift vouchers / certificates – drawing people to you. Pay particular attention to your headings & subheadings, as this is where your viewers eyes will be drawn to first. And always remember, that this is your gift 'shop' – your goal is sell!
                       IMAGES

Images are
everything
on your gift site. It's said that a picture is worth a thousand words, and that's especially true on your gift site. A stunning image can beautifully convey a moment in time, evoking emotion and action. We'd recommend having a mix of images on your gift site, such as long / wide shots, close up, different angles etc. showcasing your brand and the experiences your offer. We can also upload MP4 videos to your carousel, engaging visitors to your site, 'showing' them more, helping you stand out from the competition, keeping you in your customers' minds.
CATEGORIES / FILTERS
Have a look at how visitors to your gift site are able to sort and view the different gift experiences that you offer. We recommend a maximum of 9 'filter' options, which can be accessed via your 'Gift Types' menu, such as 'Dining' 'Afternoon Tea', 'Overnight Stay', 'Best Sellers' etc. to help buyers find what they are looking for with ease and also to inspire them if they are undecided. Consider also having a 'Christmas' gift category, making it easy for your customers to find the perfect gift.
CAMPAIGN PAGES
This is a new feature and enables us to create a page that displays a selection of your choice of gift vouchers for a particular gifting event. There are three different styles of campaign pages, and we have included an example below. You can cherry pick gift vouchers from different categories, making it perfect for 'stocking filler', 'last minute' gifts, and /or 'gifts for her / him' at Christmas. The campaign page can either be accessed by visitors from your own gift site, such as via a link on a carousel image and it's also a great way to promote your gift experiences via social media.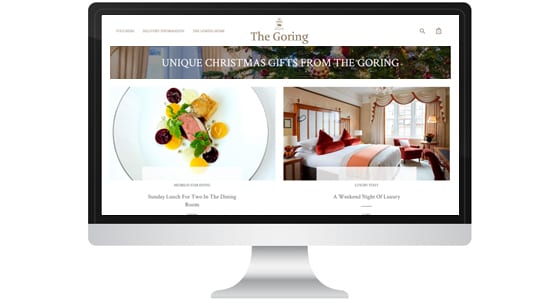 If you would like to make any changes to your gift site to help you prepare for Festive gift sales, please get in touch with our helpful team by using our details below – we'd love to hear from you!
UK: 0344 371 0071 International: +44 (0)131 220 6544 Email:
enquiries@skchase.com