Over the last few years the craze of the 'gin boom' has influenced bars around the UK and has quickly become one of the trendiest tipples in the drinks industry. From gin tastings to gin distillery tours to gin and tonic sweets and to the latest trend gin & tonic afternoon teas, people are undeniably going crazy for this quintessentially British drink.
A GIN BOOM
We work with over 300 luxury hotels, helping develop their gift voucher sales with our software and service and have noted significant growth in 'gin tasting' and 'cocktail tasting' gift experiences and an overall increase of 26% in drinks experiences sales between 2017 and 2018, as you can see in the graph below: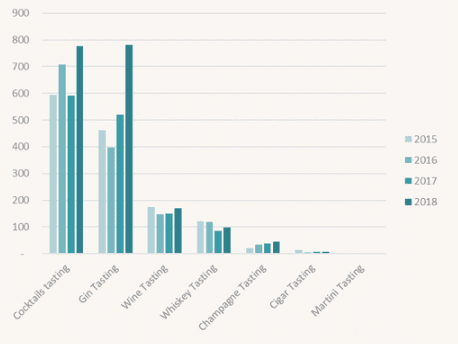 Looking at our top sellers of drink packages, the drinks experiences vouchers currently represent less than 3% of their total sales, however I believe that the demand for this type of gift voucher will continue to thrive and grow in popularity.
As gins can be made anywhere in the world, local gins are becoming increasingly popular and allow people to indulge in a unique 'one of a kind' experience enhanced by the personalised 'touch' of an exclusive botanical gin creation. The added element of 'gin' to any gift can also enrich the overall experience for the recipient and add an exciting twist to a traditional classic such as an afternoon tea.
AN ORI-GIN-AL EXPERIENCE
Keen to see what the fuss was about, a friend and I ordered a 'ginnasium gin tasting experience' gift voucher from Sheraton One Square Edinburgh and we were not disappointed!
Being a big lover of gin, I enjoyed learning about the distillation procedure from our knowledgeable 'gin expert' and immersed myself in the process of 'indulging my senses' and getting to know the botanicals and junipers that make the delicious spirit so unique. Then came the fun part… the tasting! The group were shown a variety of different gins and we picked four that were new to us all and enjoyed them accompanied with several interesting tonics and garnishes. It was amazing to observe how a tonic can bring a gin to life! Lastly, we were invited to batch our very own miniature One Square Gin from a barrel, adding a wax seal and a personalised label before heading home, bringing the experience to a satisfying end.
I say let the fun 'Be-Gin' and add a drink experience to your gift voucher listing! Give a gin lover an experience they'll relish and remember.