Did you know that Mother's Day is the third biggest luxury hotel gift voucher shopping date of the year (after Black Friday and Christmas), where a number of hotels that we work with who run a strong campaign can sell up to 7 times more than usual week!

The power of data in helping develop and grow gift voucher sales cannot be disputed; it can successfully inform marketing decisions, highlight what works and build upon that, shine a light on what doesn't and spark fresh ideas!
UNIQUE DATA INSIGHTS
To help our luxury hotel clients plan their promotions and maximise sales for this key gifting date, we were delighted to share with them a unique insights document, based on the shopping data from previous Mother's Day seasons. We segmented our collective data (from the 300+ gift sites) into segments, based on a number of factors, including the hotel's location and its facilities and included relevant insights that can help our clients formulate a powerful marketing plan, including:
Types of gift vouchers purchased
Male / female buyer split – who buys what, when, and & how much they spend
Bestselling days & times, helping hotels schedule emails & social media promotions accordingly

Here's a snapshot of a few pages from a report, which you can view in full by clicking onto the link below:
A RICHER ANALYSIS
We are also able to share a deeper investigation of individual hotel data – and include best selling voucher data (best selling gifts 2 weeks before Mother's Day, bestselling Mother's Day gifts and bestsellers of gifts for the Mother of the buyer) and an analysis of buyers location, helping our clients target shoppers based on their location. You can view an example of the data for a luxury hotel based in Surrey below: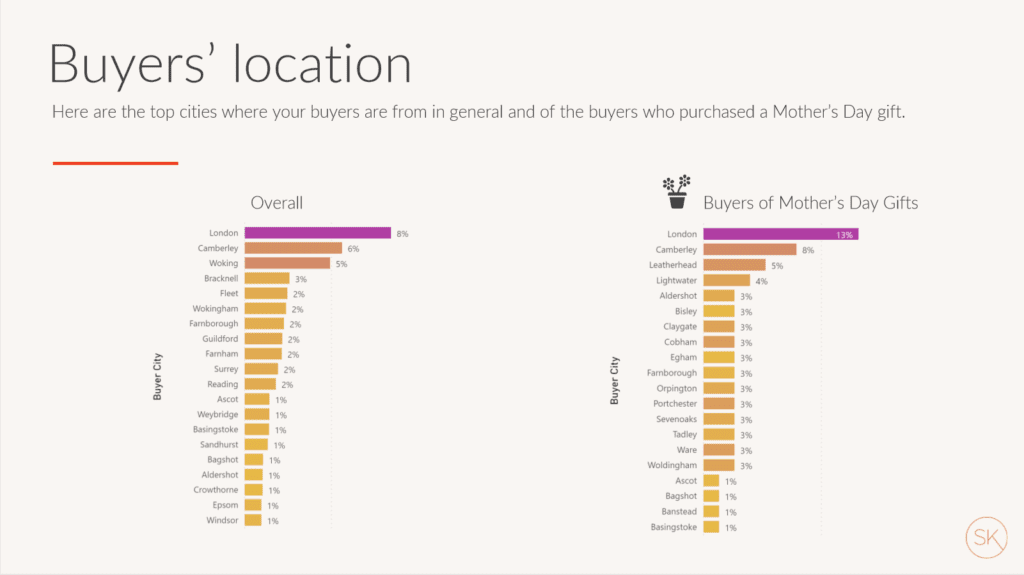 LISTEN TO THE DATA
We continue to embrace data analysis here at SK Chase, whilst tapping into our (and our clients) natural inquisitiveness, that brings insight based understanding, leading to inspired action. Data informs and supports us, and it's the marriage between the data we have access to and a human element that gives us the biggest potential for original ideas, new insight and innovation.
SOFTWARE WITH A SERVICE
Providing the software that helps our clients sell gift experiences online is just part of what we do. We're delighted to share relevant data insights with our clients as part of our service, helping them develop and grow their gift voucher sales.