Now more than ever the hospitality industry needs our support.
2020 has been a tough year, with hospitality being one of the sectors hardest hit by the restrictions put in place due to COVID-19. The next few months will be a critical time for venues and the livelihoods of the many people that work in and with this industry.
Buying a gift voucher for a hotel or restaurant is a great way to support them! Gift vouchers generate immediate revenue for venues – giving them cashflow at time when uncertainty is high and income is low.
A gift voucher is a lovely gift to both give & receive; people are seeking unique, heartfelt gifts that can be purchased online, with no physical contact & delivery taken care of (either by post or e-Voucher). And for the recipient, it's the promise of a future experience to look forward to (with the long lasting memories that live afterwards).
We're in the business of gift vouchers (SK Chase works within the hospitality sector, where we work together with luxury hotels, providing the software and service that enables them to successfully sell their gift 'experiences' online), but our support runs deeper than that – it's personal.
We're part of this fantastic community. We work alongside people in the hospitality sector and have family & friends that own & work in hotels & restaurants. We know first-hand how devastating the current situation is and want to do all that we can to support and help these businesses stay alive.
We'll be actively encouraging people to consider purchasing a gift voucher for a hotel and/or restaurant using the hashtag #GiftHotelsToHelpHotels via our partners, social channels & friends.
So let's rally round & support the hospitality industry. If you can, please consider buying a gift experience this Christmas at hotel or restaurant. Pick your favourite hotel (or perhaps a hotel you've always wanted to visit) and give the gift of tomorrow with a gift voucher.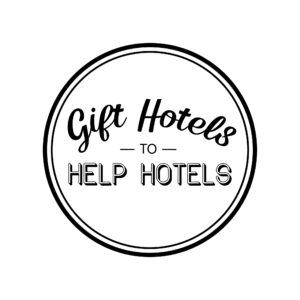 P.S The #GiftHotelsToHelpHotels visuals are free for anyone to use – simply get in touch and we'll share with you.